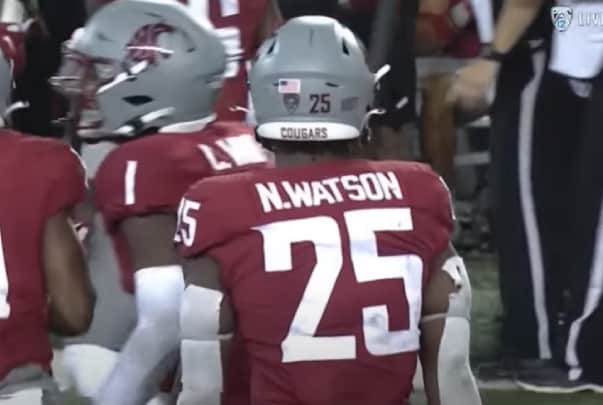 Nakia Watson, Washington State Cougars.
Pac-12 play continues as the Washington State Cougars host Arizona State this week. Pacific Northwest Sports has all you need to know.
PNWS presents what you need to know as the Washington State Cougars continue their Pac-12 Conference schedule when they host Arizona State on Saturday. PNWS has Washington State football fans covered.
Details
Who: Arizona State Sun Devils (3-6 overall, 2-4 Pac-12) at Washington State Cougars (5-4 Overall, 2-4 Pac-12).
Where: Gesa Field at Martin Stadium – Palo Alto, California.
When: Saturday, November 12, 2022 – 12:30 PM PST.
TV: Pac-12 Networks. Announcers: Roxy Bernstein and Lincoln Kennedy. (506sports.com)
Weather: Bring a coat to the game. It will be cold on the Palouse, with temperatures in the mid-to-upper 30s. Expect somewhat overcast skies and a light breeze from the west. (weather.com)
Line: Washington State -8. Over/Under: 59.5 (Odds Shark).
Interesting Trends
The Washington State Cougars may be a good bet. Against the spread, Wazzu is 6-2 overall, 9-1 at home, and 4-1 at home vs. ASU.
ASU comes to Pullman with a 2-6 record in their last 8 games. Their total has gone over in 4 of 5. The Sun Devils have done well against Wazzu lately (11-4).
Injury Report
Washington State Cougars
Out – WR C.J. Moore (undisclosed), OL Rodrick Tialavea (lower body), WR Renard Bell (arm), LT Jarrett Kingston. Questionable – DB Jordan Lee (undisclosed).
Arizona State Sun Devils
Out – RB Deonce Elliot, DE Michael Matus, TE Jacob Newell, OL Joey Ramos. Questionable – QB Trenton Bourquet, DB Keon Markham, DB Kejuan Markham, DB Alijah Gammage.
Outlook
Coming off of last week's convincing win over Stanford, the Cougs have to be feeling good about themselves. They played their most complete game of the season, dominating on both offense and defense.
Wazzu can't get too cocky. Despite ASU's poor season, the Sun Devils can sneak up on their opponents. Just ask UW and UCLA.
After missing several games due to injury, running back Nakia Watson returned to the lineup with a bullet last week. He picked up 166 yards on 16 carries. Now that Watson is back, Washington State should get more consistency out of their backfield.
Just like last week, the Cougs need to limit their turnovers. That applies especially to quarterback Cameron Ward, who is averaging over 1 turnover per game. He's got plenty of reliable targets among his receivers and backs; Ward needs to get the ball out of his hand fast.
The Washington State Cougars will be without one of their key offensive linemen. Left tackle Jarrett Kingston is out for the season with a lower-body injury.
On the other side of the ball, Wazzu's defense can make a statement again this week. Hopefully, with a little more success from the pass rush.
Their biggest mission is to stop ASU running back Xazavian Valladay. He is an explosive ball carrier and a threat to catch passes out of the backfield. The fifth-year senior has 1,061 yards from scrimmage and 14 touchdowns this year.
While Washington State won't repeat last week's point output, they should still win and cover at home.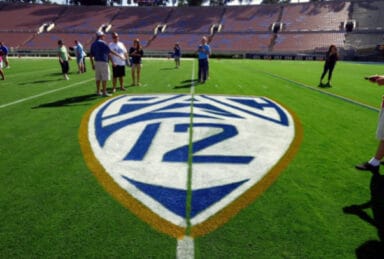 Catch up with PNWS on Sunday when we present our biggest takeaways from the game.