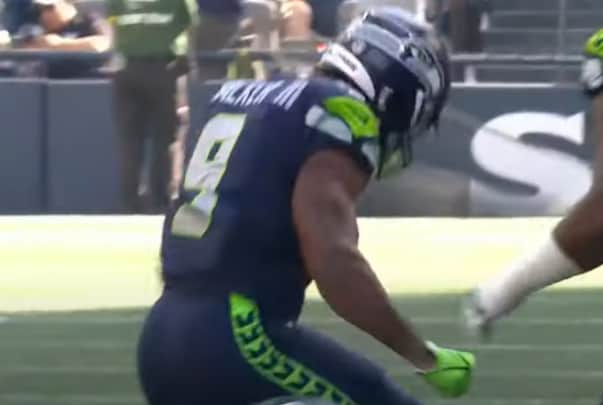 Kenneth Walker III, Seattle Seahawks.
The Seattle Seahawks travel to Munich for a matchup with Tampa Bay. Seattle will try to maintain their 1 1/2 game lead in the division at the NFL's first game in Germany.
Week 10 sees the Seattle Seahawks traveling across the US and Atlantic Ocean to play the NFL's first-ever game in Germany. At least as the "visitor" on Sunday, this game does not take away a home game from the Seahawks.
Something that's a bit head-scratching is the fact that Vegas has the Buccaneers as a 2.5-point favorite. The Seattle Seahawks are 6-3 in 2022 and are on a four-game win streak. Meanwhile, Tampa Bay is 4-5 and coming off a comeback win against the Rams.
Oh well, let everyone keep sleeping on Seattle.
Slowing Down
The Bucs' offense hasn't been nearly as dynamic as it was the past couple of seasons. There are many reasons for their decline.
Rob Gronkowski retired. Tom Brady is 45 years old, and father time is creeping up on him, not to mention the personal issues he's going through. Then there are injuries. 
Every NFL team gets hit with injuries. With Tampa Bay being a bit of an older team and relying so much on their veterans, injuries forced them to use more inexperienced players. And they didn't have nearly as stellar of a draft class as the Seattle Seahawks did this past year.
A big test for Seattle's young corners
Tampa Bay employs one of the NFL's best and biggest wide receivers, Mike Evans. The 6'5″ four-time Pro Bowl selection knows how to use that size to his advantage.
Meanwhile, Seattle's 6'4″ rookie cornerback Tariq Woolen is one of the fastest DBs in the league. Something that works to Woolen's advantage is he gets to practice regularly against a big wide receiver, D.K. Metcalf.
That leaves the Seahawks' other rookie corner Coby Bryant to cover one of Chris Godwin, Breshad Perryman, or Julio Jones. Certainly not an easy matchup for him against any of those receivers.
The Seattle offense will roll
One thing that hasn't fallen off for Tampa Bay is their defense. Their D is ranked ninth overall.
One thing that has changed is the Buccaneers' run defense isn't nearly as vaunted as it has been. They rank 23rd at 125.2 rushing yards per game. 
Seahawks rookie running back Kenneth Walker III should be able to continue cooking on the ground. His recent play has been vital to the offense's success.
However, Tampa's pass defense is ranked 10th in total passing yards. More specifically, they are ranked fifth in passing yards per game at 187.8.
Something for Geno Smith to remember is that Tampa Bay is ranked 13th, allowing opposing QBs to complete 62.8% of their passes. So, this game will be a tough test for the Seattle Seahawks' aerial attack.
Final Thoughts
As long as the Seahawks can acclimate their internal body clocks to Germany's time, they should have no problem winning this game. Tampa Bay has the worst rushing team in the NFL. But that doesn't mean the Seattle Seahawks should forget about that aspect.
If the Seattle Seahawks keep doing what they've been doing the past few weeks, they will be the first NFL team to win a game in Germany; one less accolade Tom Brady can claim.