Posted on October 21, 2022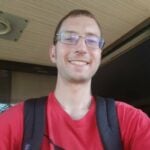 By Nick Bartlett, SuperWest Sports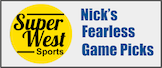 Wise is the bettor who consults Nick's No-Nonsense Betting Tips before logging on to his sportsbook.
Normally anyway. Last week? Not so much.
I went 1-6 in my Week Seven picks of SuperWest games. Ouch.
But that, my friend, is an anomaly. Previously, I went 6-1 in Week Six, 7-2 in Week Five, 8-1 in Week Four, 10-2 in Week Three, 9-2 in Week Two, and 11-2 in Week One.
Even with my Week 7 collapse, I'm a solid 52-16 on the season. That's a respectable 78% success rate!
Yes, yes, I know—you have questions. Where and how did I go wrong on so many of my picks?
Sure, I could go over all six losses and try to explain them away, but the fact is, I had a bad day. Losers make excuses for their failures. Winners own them, and I'm owning mine.
Can I get back to my profitable ways? Read on, and check back next week.
I like my chances.
As always, my selections come with incredibly accurate game scores and just enough commentary to keep me from eating too many Chili Cheese Fritos here in my home office in the beautiful Shoreline district of Seattle.
No. 9 UCLA at No. 10 Oregon
Saturday, October 22
12:30 p.m., PT, FOX
Against the Huskies I should have picked Dorian Thompson-Robinson.
Against the Utes, I should have picked Thompson-Robinson.
Against the Ducks, I still won't pick him.
There's just something about this UCLA team that I don't believe in. Combine that with Oregon's offensive line, and this could prove to be a tough matchup for the Bruins.
Time to go splashing in the pond.
Ducks by seven.
Final Score: Oregon 38, UCLA 31
BYU at Liberty
Saturday, October 22
12:30 p.m., PT, ESPNU
C'mon BYU, let's stop playing now.
Even though Liberty is 6-1, this is a must-win game for the Cougars. If the Cougars get burnt by the flames, their season becomes a huge disappointment.
The question is, which Cougs team are we getting? Are we getting the guys who lost to Oregon, Notre Dame, and Arkansas? Or the team that manhandled Baylor?
Manhandled is a cool word.
BYU by 14.
Final Score: BYU 31, Liberty 17
ASU at Stanford
Saturday, October 22
1:00 p.m., PT, Pac-12
What we have here is two upstart teams in the Pac-12, right?
Well, maybe.
Stanford would've won its last two contests if not for a miracle reception by Oregon State.
Tanner McKee is a solid quarterback and he's starting to find a connection with wideout Michael Wilson.
For Arizona State, we're all still confused as to how they beat the Huskies two weeks ago. Shaun Aguano isn't. But maybe he should be?
Who knows.
Either way, Stanford by seven.
Final Score: Stanford 28, ASU 21
Fresno State at New Mexico
Saturday, October 22
3:30 p.m., PT, FS2
How in the heck did Fresno State beat San Jose State?
I don't know.
But the victory proved that the Bulldogs are still a competitive team, even without Jake Haener.
Going forward, it's time to back it up.
And they should be able to, as long as defensive tackle David Perales is on the team. Perales is a problem.
Bar, Bulldogs, bark. Fresno's back.
FSU by 10.
Final Score: Fresno State 27, New Mexico 17
Boise State at Air Force
Saturday, October 22
4:00 p.m., PT, CBS Sports
Ever since Hank Bachmeier left the program, it feels like Boise State has newfound confidence.
Taylen Green isn't perfect, but he's a competitor. With Green at the helm, the Broncos are riding a two-game winning streak.
But against Air Force, the Broncos better be ready for the option. Everyone knows what the Falcons are gonna do, and they're damn good at it, but it's still hard to stop.
BSU's scoring defense ranks 20th in the nation, so they should be chill.
Bucks by ten.
Final Score: Boise State 45, Air Force 35
Colorado at Oregon State
Saturday, October 22
5:00 p.m., PT, Pac-12
Colorado may have snagged a miracle victory last week, but things could be much different in Reeser.
Oregon State boasts one of the best defenses in the Pac-12, and that should make it difficult for the Buffs quarterback, whomever that may be.
The Beavers also garnered more confidence last week in getting the losing streak against Washington State off their backs.
If OSU wants to be "too legit to quit," they need to ball out against CU. And they will.
Beavs by 14.
Final Score: Oregon State 28, Colorado 14
Washington at Cal
Saturday, October 22
7:30 p.m., PT, ESPN
California's loss to Colorado was not only mind-blowing, but it was also unacceptable.
It feels like a big portion of the Golden Bears' progress under Justin Wilcox was lost in one weekend.
They face Oregon, USC, and Oregon State after the Washington matchup, making this a must-win.
The Huskies need to redeem themselves on the road, and the opportunity is there.
Washington is currently 0-2 away from home, and has looked like brown snow. The snow will turn white again this week.
Dawgs by 10.
Final Score: Washington 30, Cal 20
San Diego State at Nevada
Saturday, October 22
7:30 p.m., PT, CBS Sports
San Diego State's escape-win against Hawaii meant two things.
One, it was underwhelming. And two, it was a win.
For the Aztecs to stay on the victory path, they need quarterback Jalen Mayden to have another solid performance.
Mayden did some things against Hawaii and it felt like SDSU gained some confidence. And that gained confidence should equate to another win.
Aztecs by 7.
Final Score: San Diego State 24, Nevada 17
---
—More from Nick Bartlett—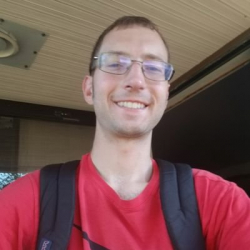 Latest posts by Nick Bartlett
(see all)