Cody Schoeler's 2022 Week 3 NFL West Previews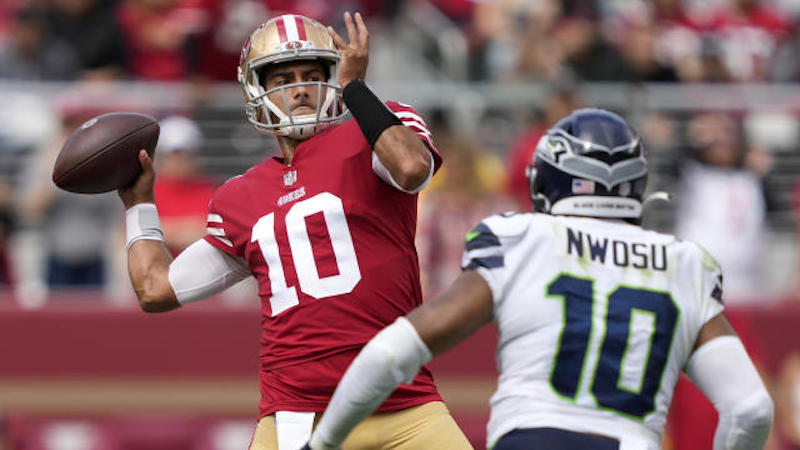 Posted on September 22, 2022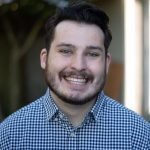 By Cody Schoeler, SuperWest Sports
Can you believe we are already one-ninth of the way through the NFL regular season?

I know, it's crazy to think that so much of the year has passed us by so quickly.
In that ninth of the season, some of the west teams have emerged as true title contenders, some have struggled to live up to expectations, and some (mainly just one) are already looking toward the 2023 NFL Draft.
No matter where a team stands after two games, it will be a football game this week just like all the other teams.
These games don't seem to matter as much in the moment because the playoffs are so far away but each win or loss is worth the same, no matter if it happens now or in December.
That makes each of the six games with west teams just as important as every game.
But as they say, the most important one is the next one, so here is a quick rundown for the next game for each of the teams in the west.
Chiefs (2-0-0) at Colts (0-1-1)
Sunday, September 25th
10:00 a.m. PT, CBS
So far, the Cardinals and the Chargers have failed to stop the Chiefs so now it is time for another team starting with a "C" to get a crack at it.
Unfortunately for those Colts, it doesn't seem like a game they stand much of a chance in.
Kansas City is led by its dominant offense, as usual, that looks as good as ever with quarterback Patrick Mahomes leading the way. He is tied for the league lead with seven touchdown passes but is also one of two starting quarterbacks yet to throw an interception.
That is bad news for an Indianapolis defense that allows the third-highest completion percentage in the league and is without an interception.
Getting linebacker Shaquille Leonard back for this game would be massive for them because the Colts will need all hands on deck to attempt to stop this offense.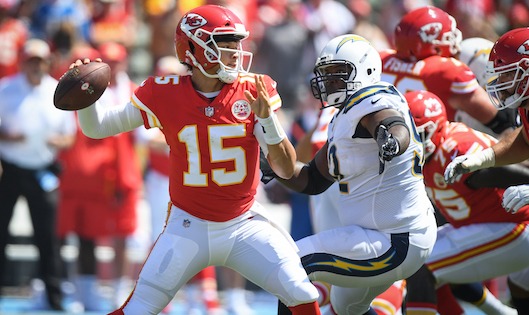 The Chiefs' defense has arguably been the more impressive unit so far this year, allowing 45 points in two games against high-powered offenses.
Rookie cornerback Jaylen Watson from WSU was the star of the show last week with his 99-yard pick-six but he is just one contributor on a defense loaded with talented players such as defensive tackle Chris Jones and safety Justin Reid.
The Colts will need a much better game out of quarterback Matt Ryan than he has given them so far. He played particularly bad last week against the Jaguars but in his defense, he was without his go-to wide receiver Michael Pittman.
In order for Indianapolis to win this game, they will need to take pressure off Ryan and keep the ball out of Mahomes's hands. That should lead to a lot of carries for star running back Jonathan Taylor.
If the Colts can establish a ground game then the path to a victory is there but it may prove too difficult to achieve due to the strength of this Chiefs squad.
Raiders (0-2-0) at Titans (0-2-0)
Sunday, September 25
10:00 a.m. PT, FOX
Starting 0-2 is never a great sign for the season, so luckily for one of these teams, they will put a one in the win column (unless we get one of those dreaded ties).
The Raiders have looked promising in two close defeats so they should have the upper hand in this matchup against the Titans.
Tennessee is coming off getting completely decimated by the Bills on national television and may still be licking their wounds come game time.
Most football coaches will tell you that every game is won in the trenches and while that may not be exactly true, it certainly is in this matchup.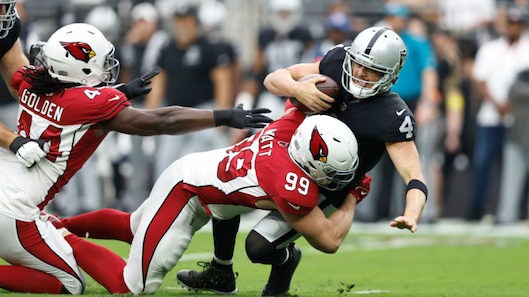 The Raiders will need to protect quarterback Derek Carr long enough for him to get the ball to wide receiver Davante Adams. It sounds like a simple plan but it is not as easy when you're up against defensive tackle Jeffrey Simmons and the Titans' defense.
On the other hand, Tennessee will need to get running back Derrick Henry going after a sluggish first couple of games. Las Vegas has allowed just 3.7 yards per carry this year, the seventh-fewest in the league, so this may be a tough test for Henry and the offensive line.
If the Titans' ground game doesn't work then it could spell disaster for them since quarterback Ryan Tannehill currently sits at 25th amongst quarterbacks in passing yards and has thrown just as many touchdowns (two) as interceptions.
The Raiders have some playmakers in the secondary that can capitalize on any mistakes Tannehill makes so that is their best shot at beating the Titans and finally getting a win.
Jaguars (1-1-0) at Chargers (1-1-0)
Sunday, September 25
1:05 p.m. PT, CBS
There is a lot that could be said in terms of analysis of this matchup but all of that goes out the window if quarterback Justin Herbert doesn't play for the Chargers.
He hasn't been ruled out but after that massive hit he took in the game against the Chiefs on Thursday, it wouldn't be shocking if he is forced to miss time. Even if he does play, it is possible that he could be at less than 100 percent and be limited due to the injury.
That places a ton of importance on running back Austin Ekeler in either scenario. He will likely need to be the stabilizing force for the offense no matter who is taking snaps. It would be a perfect time for him to have his best game on the ground this year as Los Angeles currently has the fewest yards on the ground this year.
It may not be a great matchup for Ekeler, though, considering the Jaguars are in the top four in the league in the fewest yards and yards per carry allowed.
The Chargers' offensive line will have to really show up against a Jaguars' defense that has a ton of young talent up front like outside linebacker Josh Allen and first overall pick defensive end Travon Walker.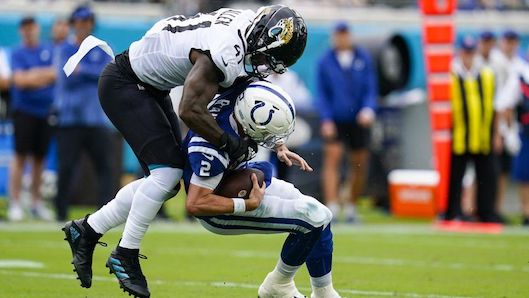 On the other side of the ball, quarterback Trevor Lawrence will get his biggest test of the season yet against a very talented Los Angeles secondary. Cornerback Asante Samuel Jr. has been very impressive this year and fellow cornerback J.C. Jackson looked good in his team debut on Thursday.
Lawrence may also be under a lot of pressure in this contest if the revamped offensive line struggles to block outside linebacker Khalil Mack and defensive end Joey Bosa, which is highly likely considering the talent of those two players.
Jacksonville may not have the caliber of offensive weapons as their opponent but wide receiver Christian Kirk and the running back duo of James Robinson and Travis Etienne have all been very productive this year.
At the end of the day, this game will come down to Herbert's ability. This Jacksonville defense is coming off a shutout of the Colts so they clearly have the talent necessary to play well enough to win a game.
If Herbert is at 100 percent, or close to it, then the Chargers should be able to win the matchup. If Herbert's injury does hold him back, then that might be just the opening the Jaguars need to pull off the upset.
Falcons (0-2-0) at Seahawks (1-1-0)
Sunday, September 25
1:25 p.m. PT, FOX
The next time these two teams are competing against each other, it may be for the first overall pick in the draft, which means this likely won't be the most entertaining on-field product.
The Seahawks looked like a completely different team in Week tTo than they did in their win against the Broncos. Seattle's offense was completely shut out for the 49ers and the only thing keeping the goose egg off the scoreboard was a blocked field goal returned for a touchdown.
The Falcons, on the other hand, are 0-2 and have one of the least inspiring rosters in the league but have played two close games. They were getting blown out by the Rams for much of the game last week but ended it making it competitive, ultimately losing by just four points.
This game will be decided by which journeyman quarterback plays better between Seattle's Geno Smith and Atlanta's Marcus Mariota.
Smith has been very effective but has been reluctant to stretch the field and use weapons like wide receivers DK Metcalf and Tyler Lockett. He has the highest completion percentage in the league but the lowest yards per completion.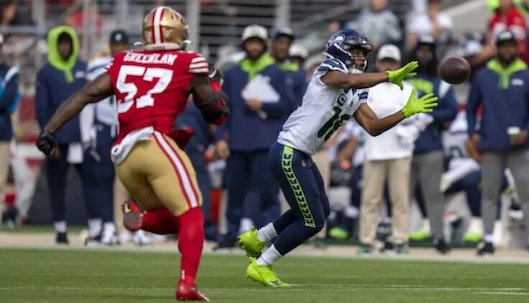 We may see more of that approach from Smith this week if he opts not to test cornerbacks A.J. Terrell and Casey Hayward.
If Seattle can't move the ball through the air then they may be in trouble considering they have run for the fewest yards in the league so far.
This probably will be another poor showing on offense for the Seahawks, which will require the defense to keep them in the game.
Seattle's defense has looked good so far with linebackers Jordyn Brooks and Uchenna Nwosu making big plays for them. They will try to pressure Mariota to ensure that he isn't able to make plays with his legs, similar to how they defended Russell Wilson in Week One.
Mariota would be wise to utilize tight end Kyle Pitts, which he hasn't done much this year. Seattle is without safety Jamal Adams for the rest of the year so Pitts will have a more favorable matchup than previously expected.
This game won't feature very good play and probably won't have points scored either so whichever offense manages to put together a few successful drives will be the one to leave with the victory.
Rams (1-1-0) at Cardinals (1-1-0)
Sunday, September 25
1:25 p.m. PT, FOX
The last time these two teams squared off, the Rams destroyed the Cardinals 34-11 in a playoff game that most Arizona fans have probably erased from their memory.
The contest should be different this time around, though, The Rams are much more vulnerable than last year's Super Bowl-winning team and the Cardinals also have a different look.
Los Angeles should be able to take advantage of the Arizona secondary, especially with wide receiver Cooper Kupp still playing amazingly. The Cardinals have allowed 604 yards through the air, which is the second-most in the league.
Quarterback Matthew Stafford looked a lot better in week two, which will happen when you aren't playing the Bills, so it seems as though he is not completely broken this year.
Even if the Rams' struggles on the ground continue, they shouldn't have a problem scoring points on the Cardinals. They might even throw the ball on every play, which wouldn't be such a bad idea.
Arizona's only hope to slow down Stafford is to put pressure on him, as the Bills demonstrated in Week One.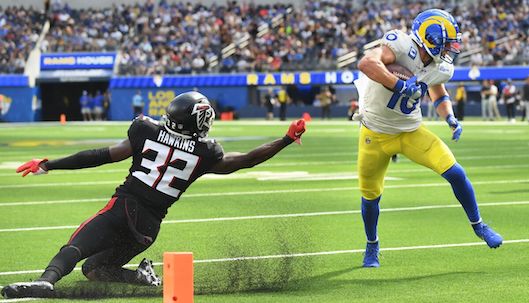 Unfortunately, the Cardinals have only registered one sack this year so they will really need defensive end J.J. Watt and outside linebacker Markus Golden to step up in this game.
If Arizona's defense can't get the job done, which will likely be the case, then they will have to resort to outscoring the Rams.
If quarterback Kyler Murray can keep the momentum from last week's come-from-behind win over the Raiders, then that might be the more realistic option.
Obviously, Los Angeles has players such as defensive tackle Aaron Donald that will make that much harder for Arizona.
Wide receiver Marquise Brown will have a tough matchup with cornerback Jalen Ramsey but if he can get open a few times for some big plays then the offense could be alright.
What the Cardinals don't need this week is to be without running back James Conner, which seems like a possibility given his ankle injury.
Without Conner, Arizona likely won't have the offensive firepower necessary to win this game.
49ers (1-1-0) at Broncos (1-1-0)
Sunday, September 25
5:20 p.m. PT, NBC
The Jimmy Garoppolo era Part Two will officially be underway when the quarterback takes on the Broncos and quarterback Russell Wilson.
Garoppolo came in last week after quarterback Trey Lance suffered a season-ending ankle injury and was able to lead San Francisco to a victory against the Seahawks.
Now we will get to see what the 49ers look like with a full week of practice with Garoppolo as the start, although it will probably look similar to the team that went to the NFC Championship game last season.
The veteran quarterback's more methodical and safe style of play should be able to score on the Broncos' defense that is without safety Justin Simmons, especially if cornerback Pat Surtain misses the game after suffering a shoulder injury last week.
It is really hard to judge the 49ers' offense so far because both games have been under unique circumstances but we do know that wide receiver Deebo Samuel is still an elite playmaker.
If San Francisco gets tight end George Kittle back this week then that will surely give them enough talent to score plenty of points.
The Broncos' offense can certainly be judged, and judged harshly, based on its performances so far. Denver has scored just 32 points this year despite playing two teams, the Seahawks and Texans, who aren't considered to be very good.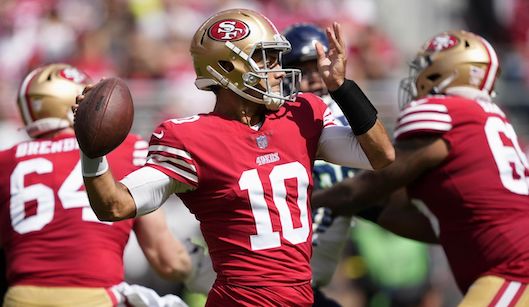 Wilson has not looked comfortable in the offense yet and may be even more uncomfortable if he is without wide receiver Jerry Jeudy this week.
Wide receiver Courtland Sutton is plenty talented to shoulder the receiving load and has developed a good connection with Wilson, but San Francisco may be able to take him out of the game if he is the only pass-catching threat on the field.
The 49ers will win if they can dominate in the trenches. By getting pressure on Wilson with defensive end Nick Bosa and the rest of the defensive line they can neutralize the passing game.
They will also need to stop the running game which is led by a terrific running back dup of Javonte Williams and Melvin Gordon.
Ultimately, Denver needs to play much better than they have in its two previous games in order to be competitive with a good team like San Francisco.
A lot of that will be up to head coach Nathaniel Hackett, who has looked overwhelmed so far as a head coach and has made multiple game management errors.
It is possible that the Broncos finally look like the team that they have the potential to be this week but the more likely outcome is that they struggle once again and the 49ers are led to victory by the steady hand of Garoppolo.
---
—More from Cody Schoeler—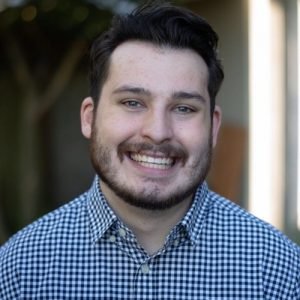 Latest posts by Cody Schoeler
(see all)